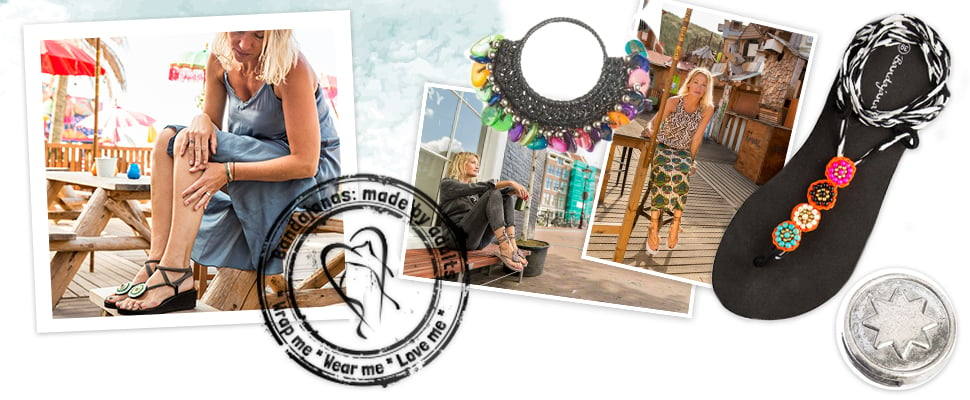 FAQ
What's all included in the price of slippers?
- 1 pair of slippers in  an eco-friendly shoebag.
Can I order the slippers, laces or accessories also separately  from each other?
- Yes you can, click in the Webshop. There you can see the whole collection.
Can I order additional logo labels?
- Yes you can. Go to accessories; gold or silver. Here you can order additional labels.
Can I order more slippers, laces or accessories at one time?
- Yes you can. Go to Bandajanas shop and see the whole collection.
How do I know what size I need?
- The slippers are a bit smaller than the GB sizes. When in doubt check our sizechart.
What size are the laces?
- Approximately 1.40 meters per lace. They are easy to cut to your size.
NOTE: It is possible that one lace is smaller than the other in a set, this has to do with the stretch.
Are the laces comfortable and do I have enough support?
- Most sets are made of fabric with stretch. That feels soft and comfortable.
Take a Look at our Tips&Tricks for some inspiration.
Can I wash the laces?
- Yes you can at 30 degrees. Don't mix white with pink ;-)
What is your return policy?
- Is the unworn slipper not to your liking then you can return it within 14 days of the order date at their own expense to us.
Put this together with the return form.
You will receive a confirmation email.
The purchased amount will be refunded within 5 days.
How can I pay?
IDEAL
Choose a safe payment that is directly debited from your account. 
Creditcard
PAYPAL

By Bank
Send the money to our account directly:
NL71RABO0314367950, Bandajanas
The order will be send as soon as the money is in our account.
How can I report a problem?
Customers can log in and create a ticket. In your account you also receive the answer.
Do you have more questions? Contact us: info@bandajanas.com